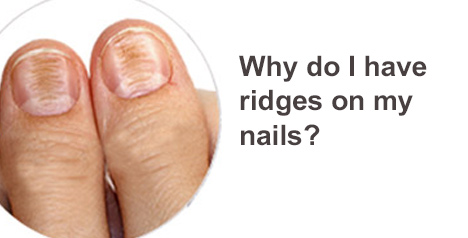 Vertical ridges on your nails can be a normal result of ageing. Horizontal ridges on the other hand, can be caused by diseases that affect the entire body, including malnutrition, heart attack, severe infections and metabolic disturbances, including poorly controlled diabetes.
A very common cause of ridges is malnutrition or malabsorption. Vitamin deficiencies cause ridges on fingernails, as the body's production of the materials in the nail is interrupted.
Take the Podiatrists advice:
• Eat a healthier diet and supplement with vitamins
• Eat gelatin, which will also benefit your hair!
• Schedule an appointment with a podiatrist to learn more about your specific condition.