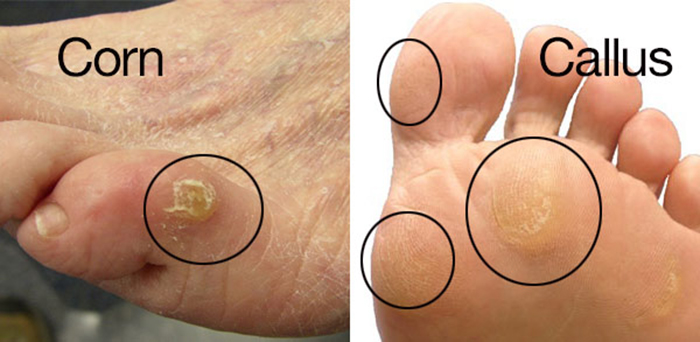 What is Hard Skin?
Hard Skin on the foot is known as a foot callus which is a thickening of the skin as a result of intermittent pressure and friction. Usually foot calluses appear as a dirty yellow mass of hard skin, which shows no definite line of demarcation. It is the way that healthy skin protects itself from undue stress and therefore can occur in any part of the body such as a labourer's hands.
The most common area for foot calluses or hard skin to occur is the ball of the foot and around the heel area which can cause heel pain. Occasionally, foot calluses may occur at the tip or on the top of toes as a result of ill-fitting shoes.
Products for Dry Skin:
Read Ureka Foot Care Cream Reviews

Use on feet to prevent dryness, very effective, recommended by chiropodist. Customer: 150928214625  2015-10-06 at 08:57

Excellent product, cleared the rough skin up and made a great improvement in the skins condition. Customer: 140910172825   2014-09-17

For regular foot use. Excellent product that does the job every time. Customer: 150312134805 – 2015-03-19

Quality product which was recommended by my husband's podiatrist. Customer: 150618135245
2015-06-26 at 11:57
Causes of hard skin
1. Pressure and friction
2. Poor fitting shoes
3. Someone carrying excess weight
4. Toe deformities
5. Abnormal metatarsal bones.
People with flat feet or high arches typically have poorly aligned bones in their feet (the metatarsal bones), which results in uneven pressure when they walk. VIEW Insoles with metatarsal support HERE.
When the bottom of the foot is subjected to the pressure of body weight when a person is standing or walking, the area where the foot callus has formed may become very painful with a burning sensation.
The pressure under the foot is often caused by poor weight distribution and may indicate some underlying conditions such as in-rolling feet or prominent metatarsal heads. A lack of a pad of fat under the metatarsal heads will also contribute to increase pressure to the ball of the foot and it is therefore recommended not only to protect and cushion the affected area but also to try to correct any misalignment of the foot function.
Do not try self-treatment by cutting the foot calluses away as the bathroom surgery can lead to hospital room treatment.
Treatments for Hard Skin
1. Soak your feet in warm water using a skin softener to
soften hard skin such as Gehwol Fusskraft Herbal Bath
2. Rub areas of hard skin with a Wooden Foot File.
3. Moisturise your feet once a day, we like Ureka 10%
Urea cream. Ureka 10% urea cream minimises water
lost through the skin's epidermis, or outermost layer
and can be used to treat skin conditions such as
eczema and psoriasis. Ureka 10% urea cream is
Hypo Allergenic.
Wearing socks at night after you have moisturised
your feet will provide extra skin nourishing hydrators,
which include Jojoba oil, Vitamin E, Avocado Oil
(Vitamin A) and Olive Oil.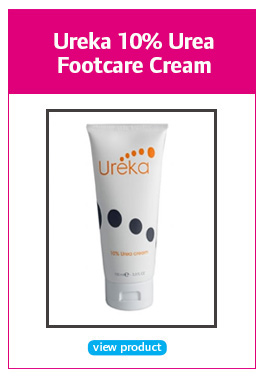 4. Try to wear shoes with a shock absorbing
sole or try an Insole to reduce pressure and
friction on the foot.
Please post a comment below if you require advice
regarding our products.
Our in house podiatrists are here to answer your
questions regarding your foot conditions.