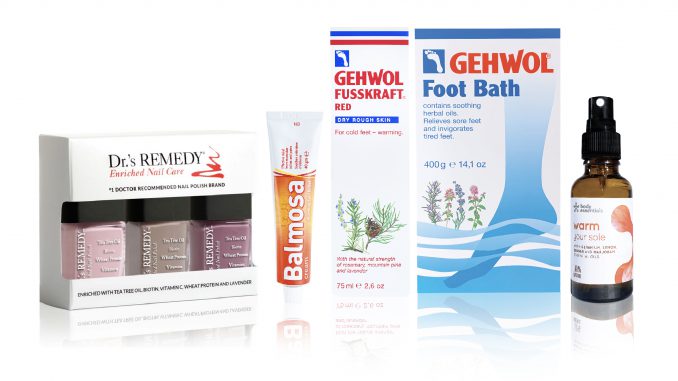 With the weather turning and winter now upon us, feet can be affected by the colder weather and foot conditions such as dry skin, cold feet or chilblains.  Here are some tips to help keep your feet warm and cosy this winter. 
1. Follow a skincare routine
Our skincare routines can often be focused on the summer months when our feet are on display in sandals and summer footcare. Winter weather can also cause skin to become dry or damaged. If you suffer from dry skin a moisturising foot cream such as our Ureka 10% Urea Footcare Cream will help to revitalise dry skin and keep your feet soft and supple. 
If you suffer from cold feet or chilblains a skincare product with warming properties can help to aid circulation and reduce sensitivity to cold. Our Body Essentials Warm Your Sole is a natural, essential oil with geranium, lemon, ginger and marjoram which is designed to soothe chilblains and cold feet. This antiseptic, soothing oil aids circulation and stimulates the body's natural defence mechanisms to protect and warm the skin.    
2. Wear good quality socks
While the temptation can be to go barefoot under your shoes wearing good-quality socks will protect your feet from the cold. Socks made from a temperature regulating material such as natural wool or bamboo will help your feet to stay cosy.
Our Thought Socks feature lively patterns and are available in a choice of materials, look out for our Women's Jannie Wool Socks, Men's Henry Fairlise Wool Socks or any Bamboo socks over on the Feetlife website.
3. Try to keep active
In colder weather having the motivation to get up and about is difficult but remaining active and exercising for a few minutes each day will help to aid circulation. As well as ensuring our bodies are well protected from the cold with warm clothing it is also important to ensure our feet are shielded from the cold and rain. A good quality pair of walking shoes with a sturdy sole will help to support your feet, if possible, choose a style with GORE-TEX or waterproofing to ensure your feet remain dry and protected.
If you notice any changes in your feet or have any concerns about your foot health we recommend visiting your local podiatrist.