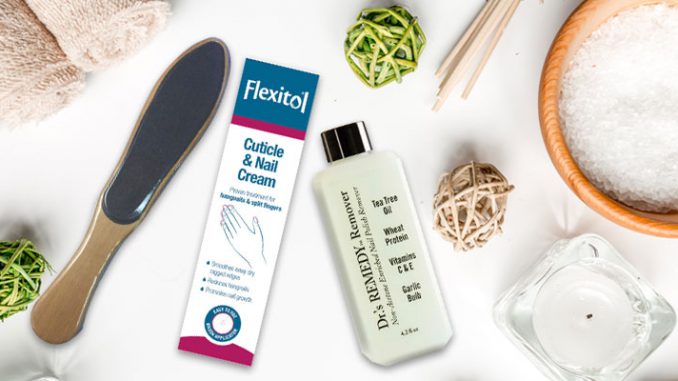 The fashion for exposed toes and near naked feet, demands soft, smooth soles and neat, polished nails. So if you're too busy to visit the beauty salon, follow our expert advice and work your way, step-by-step to healthy, beautiful feet with a DIY pedicure.
5 simple steps to a perfect DIY Pedicure
Podiatrist Emma Supple shared her tips.
First remove all traces of nail polish with an acetone free nail polish we love Dr.'s Remedy Remover £9.95 from Feetlife. Next fill a bowl with cool water and add a handful of sea salt or a foot soak, or even some slices of lemon. Now sit back and relax for fifteen minutes, whilst you soak your feet to soften and clean the skin. After soaking, scrub both feet with a stiff bristled brush on the soles and around the heels. 
Supple Top Tip: Scrub feet every day, when showering or bathing to help improve skin condition and prevent the build-up of hard skin.
Towel dry your feet, particularly in between your toes. Then gently rub the soles and edges of your feet with a buffer or foot file. Concentrate on the rough areas that accumulate on your heels, the balls of your feet and the sides of your big toes.
Supple Top Tip: If you have excessive amounts of hard skin you need to see a podiatrist for a pedicure, or just buff your feet when they are dry, this way you can get a sense of how hard the skin is. Give your feet a final soak and then buff again.
Next apply a urea based cream or Flexitol Cuticle and Nail Cream around the base and sides of your nails and leave for five minutes. This gently softens the area ready for nail painting preparation. Cut each nail straight across with nail clippers and file any rough edges smooth. Using a rosewood stick or hoof stick, gently push back each cuticle on all sides with circular motions.
Give your feet a good rub with Flexitol Moisturising Foot Cream to help nourish the skin of the feet. Work the cream into the soles, kneading with your fists and applying pressure in between your toes with your thumbs. Massage up the legs too, as they contain the muscles that work the feet. Continue massaging until the foot cream has been completely absorbed.
Supple Top Tip: The skin on the feet is thicker than elsewhere on the body, so you need a cream with a rich consistency containing urea to actually get into the thicker layers rather than a body moisturiser. If dry cracked heels are a problem then treat them with Flexitol Heel Balm which includes a 25% urea and once the problem has been resolved, maintain the healthy foot skin with Flexitol Moisturising Foot Cream.
Wipe away any remaining lotion from the toenails and remember to insert toe dividers. Paint each nail with a base coat such as Dr.'s Remedy Base Coat to prevent the polish staining. With your chosen colour paint each nail, starting with one stroke up the middle of the nail. Repeat on both sides to achieve a perfect curve at the base, without touching the cuticle. Apply a hight shine top coat and leave your nails to dry for at least 20 minutes.