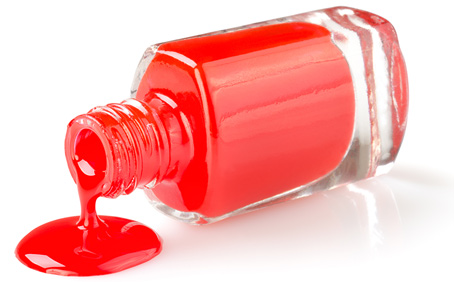 Is your nail polish toxic?
Does the toxic fumes in your nail polish raise concerns? Does the potent smell of nail varnish trigger off questions such as is my nail varnish safe? If you have heard of the terms 'toxic trio', '3-free' and '4-free' even '10-free' you may be aware about the health concerns associated with the ingredients in your nail polish and the potential health risks.
The 'toxic trio' commonly present in Nail polishes (also called lacquers or enamels), base coats, top coats, nail hardeners, and nail treatments are dibutyl phthalate, toluene and formaldehyde. These damaging chemicals are the culprits for weak, dry and discoloured nails.
In fact, formaldehyde is used to preserve dead bodies and is also linked to cancer. It is our understanding that DBP is a additive that has been banned in polishes in Europe because of its link to birth defects. Finally, toluene is a chemical that has been removed from drinking water because of research linking it to liver and kidney failure.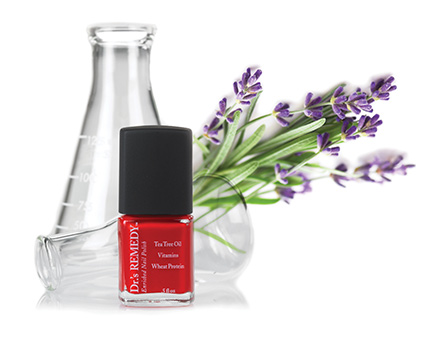 Dr.'s remedy is a healthy alternative to traditional nail products which consists of a base coat, top coat, hydration treatment and cuticle oil. Dr.'s Remedy nail polish is safe for pregnant women, vegans and can be used with topical fungal medications. Dr.'s Remedy nail polish and treatments are enriched with wheat protein and vitamins C and E, which strengthen weak nails and prevent discolouration and cracking, and garlic bulb extract and tea tree oil, which prevent fungal growth. The polishes come in a variety of shades to suit any taste. VIEW COLOURS
Dr.'s Remedy a '10-Free' nail care system which doesn't contain the toxic trio plus camphor, parabens, xylene, TPHP, DBP and is not tested on animals.
Camphor is a potential irritant. Used in muscle rubs for its mint tingling sensation on the skin, there really is no reason to add this to nail polish. Camphor is both synthetically and naturally produced. Formaldehyde resin – is a major allergen and can cause contact dermatitis.
DBP Is a teratogenic (causes birth defects) so polishes containing this toxin is a big no for pregnant mother. Is a Carcinogenic (causes cancer) although there isn't direct link proving this as yet.
Another chemical not present in Dr.'s remedy nail care products is Xylene. Reports indicate that inhaling this vapor can depress the central nervous system. Dr.'s Remedy Nail Care system has not been tested on animals and contains no Parabens.  Parabens are also said to be cancer-causing. Paraben compounds mimic estrogen and in high doses can potentially alter your body's hormone production. Parabens are also potentially responsible for some cases of testicular cancer and lowering sperm counts, and they  may also lead to early ageing of your skin.  Parabens are widely used preservatives that prevent the growth of bacteria, mold and yeast in cosmetic products. Sounds good, right? Not so fast, they do more than that. Parabens possess estrogen-mimicking properties that are associated with increased risk of breast cancer.
All nail polish, nail treatments, or nail hardeners contain a film-former to make the product hard and shiny when it dries. To make the film tough and resilient a secondary film-former such as formaldehyde resin is usually used. Dr.'s Remedy contains only organic ingredients and vitamins to help your nails grow strong. Many customers who have used Dr.'s Remedy nail polish say their nails appear stronger, whiter, and healthier.
If you have any questions or would like to hear about special offers on this product please go to our facebook page