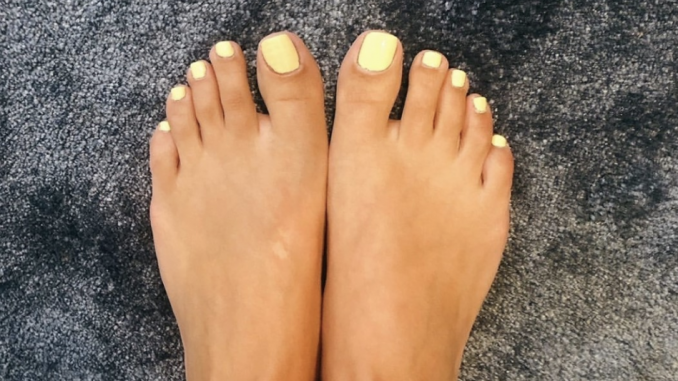 Get your feet Summer ready by following our step-by-step guide to the perfect home pedicure treatment.
STEP 1
Remove any old polish from your nails and soak your feet for about 10 minutes in a warm tub. Try using Gehwol Fusskraft Herbal Bath to soften hard skin and give your feet a revitalised feeling.BUY HERBAL BATH
STEP 2
Exfoliate and smooth away rough spots by using a scrub such as Gehwol Mother of pearl scrub, effective at tackling hard skin and dead skin cells. Massage each foot 1-2 minutes, starting at the heel and working your way towards your toes, around your ankles and calves. BUY GEHWOL SCRUB
 
STEP 3
Trim and file nails. Trim straight across using a steel clipper or Nipper made for toenails. This helps reduce ingrowing toenails. The perfect file for the job is the Podopro Nail File (Slim) a double sided file that immediately gives a smoother, finer finish to your nails.BUY PODOPRO NIPPER
STEP 4
Massage your lower legs and feet with moisturiser using circular motions. Gehwol Fusskraft Leg Vitality is a pleasantly refreshing balm that has a soothing effect on tired and heavy legs.BUY LEG VITALITY
 
STEP 5
Use polish remover to clean the nail bed and eliminate the moisturiser. Choose a remover that is acetone free like Dr.'s Remedy Remover, with tea tree oil, vitamins C & E.  Use foam spreaders or roll up a tissue and weave between your toes to separate them. Buy Remedy Remover
STEP 6
Apply a base coat polish. Follow with two coats of your favourite colour. Apply a clear top coat last and dry for 10-15 min. Dr.'s Remedy NEW product – Dr.'s Remedy Total Two-In-One is a multi purpose clear that's works as a base and top coat. BUY TOTAL 2 IN 1
STEP 7
Use a good nail treatment to keep the nails strong such as Dr.'s Remedy  Hydration Treatment. A fantastic way to improve the health of your nails with the benefits of less toxins than traditional polish. Buy Dr.'s Remedy Hydration Nail Moisture Treatment.