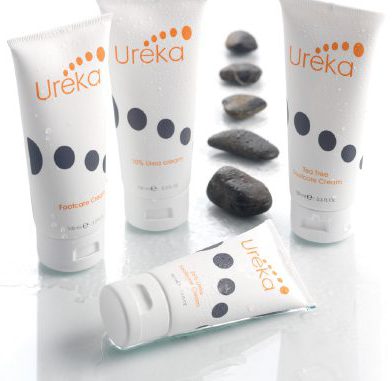 Dry Skin on the feet and around the heels is a common condition that can become very painful if the cracking starts to bleed and leads to an infection, this is a serious problem for anyone with a chronic disease such as diabetes or a lowered immune system due to age or illness.
Dry skin also known as xerosis, is caused by both exogenous (external) and endogenous (internal) factors, that may lead to symptoms such as itchiness, a skin rash, or even pain and secondary infection such as atopic dermatitis, eczema, psoriasis or athlete's foot.
When there is a substantial loss of water from the skin, the thickest skin layers of the body, like those of the feet are less able to retain moisture. Regular use of Ureka cream can prevent the skin cracking and relieve itchiness.
Ureka's range of paraben free skin creams help to treat and prevent a variety of foot problems such as dry skin and fungal infections.
VIEW UREKA FOOTCARE CREAM HERE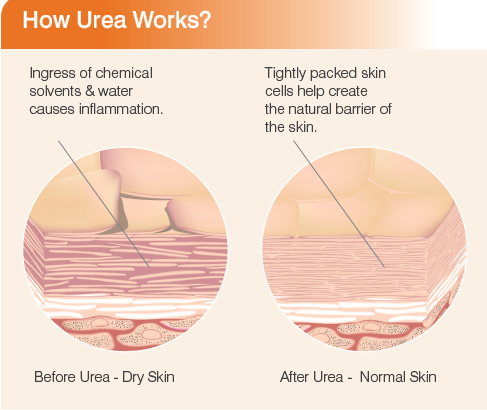 Ureka 10% and 25% cream contain the ingredient Urea a natural skin compound that helps bind moisture in the upper layer of the skin, the stratum corneum.
Urea aids in protein synthesis and provides the body with beneficial nitrogen.
In addition Urea boasts antibacterial, antiviral and antimicrobial properties.
Urea is also keratolytic, meaning it breaks down the connections between dead skin cells, improving cell shedding and, thus, smoothing the skin's surface.
VIEW UREKA FOOTCARE CREAM HERE

• Minimises water loss –
Urea reduces amount of the water lost through skin's epidermis.
• Moisturises –
Urea is an effective moisturiser and humectant.
• Strengthens skin's barrier –
Urea helps skin cells renew and regenerate, keeping the barrier strong.
• Improves Penetration of other ingredients –
Urea helps other ingredients eg hydrocortisone to be absorbed by the skin.
The Ureka Footcare range contains 10% and 25% Urea for both general and advanced use. The Ureka 25% is available in a 50ml tube & 500ml pump dispenser. The Ureka 10% & Tea Tree is available in a 100ml tube & 500ml pump dispenser.
Applied regularly on dry skin, the 25% Ureka Cream quickly hydrates and moisturises the affected area. Once the body's natural balance has been
attained, continue to combat the underlying problem with the lower 10% version.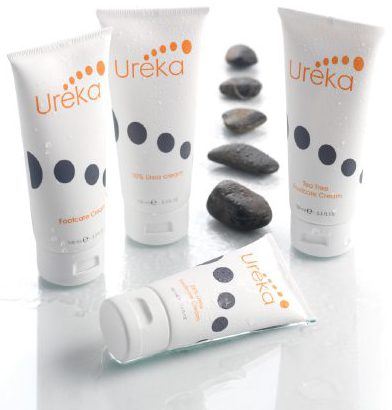 VIEW UREKA FOOTCARE CREAM HERE
"I have used Ureka foot creams in my practice for over 5 years.
The 25% proves highly effective in the treatment of excessively dry and cracked heels, whilst the 10% used routinely maintains healthy hydrated skin.
The 500ml pump dispensers allow cost effective and convenient application post treatment, which in turn encourages the patient to purchase Ureka and use it as part of their home foot care regime.
It is easily absorbed leaving a non-greasy pleasant smelling finish, popular with patients.
Ureka is competitively priced and available only from Podiatrists avoiding price competition with High Street stores."
VIEW UREKA FOOTCARE CREAM HERE
"Since it's inception in 2008, footrescue has grown into one of the largest Podiatry Businesses in Dorset and the surrounding area with 2 'high-end' clinics in prominent High Street locations.
I firmly believe that product sales has been one of the key elements of that success with Ureka being a major player in our growth since the start. Patients love it, Podiatrists love it and as one of our luxury brands in clinic, I love it.
Ureka not only works for our clients, but it's popularity has helped grow our business beyond expectations."