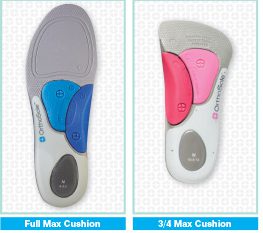 TWO KINDS OF ADJUSTMENTS FOR A CUSTOM FIT
MICRO ADJUSTMENTS through OrthoSole's exclusive
heat and pressure-sensitive PORON Urethane Layer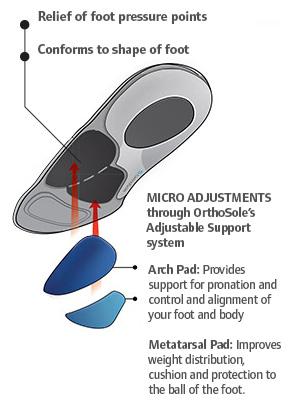 INNOVATION IN INSOLES
The first insole with customisable arch and metatarsal support.
Allows you to customise the level of support for each foot to create
your perfect fit.
All elements selected for use in the OrthoSole insole are the
highest quality and durability, and work together to make
an intelligent structure.
ADDITIONAL FEATURES
Fabric:
• Keep feet cooler drier
• Abrasion-resistant
• Antimicrobial
Heel Chassis:
• Helps stabilise the ankle joints during foot strike
• Properly guides the foot during every ground contact from heel to toe
• Helps with supination
Extra Poron Heel Insert:
• Eases impact during heel strike while walking and running

EASY FITTING STEP
1. CUSTOMISE YOUR ORTHOSOLE INSOLE
Configure your new OrthoSole insoles with your preferred combination of arch and metatarsal support pads. The custom supports are changed by removing the pink/blue sections off the bottom of the insole via the velcro.
2. OUT WITH THE OLD
Remove your shoe's existing insoles. (This should feel quite liberating.)
Replace them with your new OrthoSole insoles, fabric side up.
Make sure your OrthoSoles fits snugly in the shoe and your toes
have sufficient room to move.
3. LET YOUR FEET DO THE TALKING (WHILE YOUR WALKING)
Wear your OrthoSole insoles for a minimum of 2 minutes while
they conform to the shape of your foot. Experience how the current
support pad combination feels for you. OrthoSoles feel great straight
out of the box, so you don't have to worry about any "break-in period."
4. RE-CONFIGURE YOU COMBO
If needed, adjust support pads again until you find the most comfortable
combination for your feet. You can adjust OrthoSole insoles as many
times as you need.