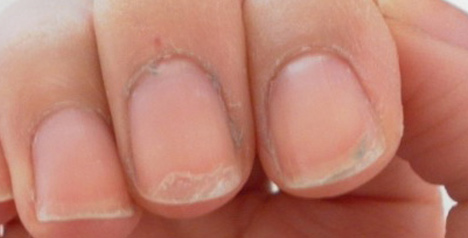 Q: My nails are always SPLITTING. What's wrong with them and how can I stop it?
A: Onychoschisis or lamellar dystrophy, is a condition that causes horizontal splits within the nail plate. Nail splitting is often seen together with onychorrhexis – long-wise (longitudinal) splitting or ridging of the nail plate – and these 2 diseases together are called "brittle nail syndrome." Caused by the following:
Frequent wetting and drying of the hands. Common among house cleaners, nurses, and hairdressers.
Exposure to nail cosmetics (hardeners, polish, polish removers/solvents), gel nail procedures, and occupational exposure to various chemicals.
Injury (trauma)
Medical problems, including gland (endocrine system) diseases, tuberculosis, Sjögren syndrome, and malnutrition.
Skin diseases, such as lichen planus and psoriasis, as well as taking oral medications made from vitamin A.