When you go for your manicure, do you often wonder exactly what goes into that nail polish that now resides on your fingers and toes?

Nail varnishes can contain ingredients that can cause allergies or irritations, so your itchy eyes or skin may not be the result of your skin care.
Most nail brands are now [at least] three-free, meaning they've removed the worst of the chemicals – dibutyl phthalate or DBP, a plasticiser; formaldehyde, a known carcinogen; and toluene, a toxic ingredient found in solvents – from their formulas.
However, that can still leave some of the leading culprits of allergic contact dermatitis and irritant contact dermatitis hiding in the bottle; so while that manicure can look chic on the outside, it may not be so good for you on the inside.
Dr.'s REMEDY, one of the first podiatrist-formulated nail collections that not only promises luxe polish colours that are 10-free, but also addresses real concerns of nail health.
Dr.'s Remedy Enriched Nail Care stands apart for its wellness-inspired approach to maintaining strong, healthy nails while tackling everyday issues like dryness, discolouration and nail fungus with no harmful chemicals.
Check out the Dr.'s Remedy 10 FREE round up: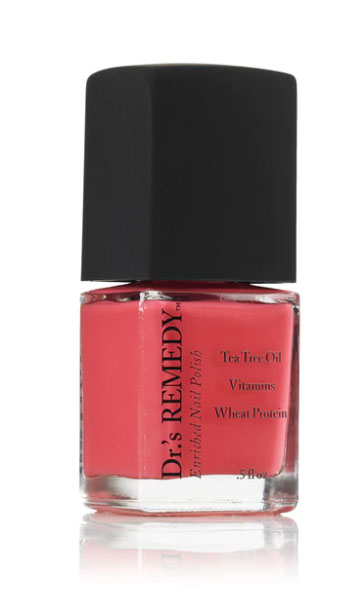 Dr.'s Remedy Clarity Coral Nail Polish
Bright pinky nail polish with orangey and matte.