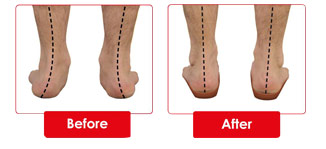 Aid the relief of Bunions, Ball of Foot Pain, Achilles Tendonitis and many more foot conditions…
How Pedistep Works
Pedistep Orthotics have been designed by a Podiatrist to help treat common foot problems and ankle, hip, knee and lower back related pain. There are 3 designs of Orthotics for casual shoes, sports shoes and high heels to help Pronation.
What is Pronation?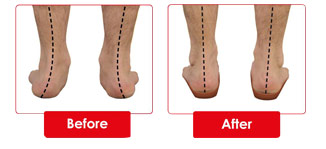 Pronation is a natural movement of the foot when walking or running. The foot pronates inward during normal motion. A moderate  amount of pronation is required for the foot to function properly, but damage and injury can occur during excessive pronation.
How Does Pedistep Treat Pronation?
Pedistep Orthotics work by correcting excessive pronation and supporting the arch of our feet.  Pedistep Orthotics have been designed with specific angles integrated into the orthotic, which are medically proven to reduce and correct pronation, in turn alleviating the painful symptoms that result.
Pedistep Orthotics utilise contemporary science and revolutionary technology to provide wearers with an integrated support and comfort system.
Don't let pain stop you leading an active and healthy lifestyle.  By restoring correct body alignment Pedistep Orthotics alleviate pain and put the spring back in your step.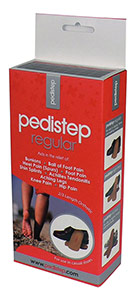 Pedistep 2/3 Length Regular
For regular and walking shoes. Aids the relief of: Bunions, ball of foot pain, Heel Pain (spurs), Foot Pain, Shin Splints, Achilles Tendonitis, Aching Legs, Knee Pain and Hip Pain.
£18.95 on feetlife

Pedistep Full Length Orthotic For Sports Shoes
Ideal for sports shoes and work boots. Aids the relief of Bunions, ball of foot pain, heel pain (spurs), shin splints, achilles tendonitis, aching legs, knee pain and hip pain.
from Feetlife £19.95
Pedistep High Heel
Don't let pain stop you wearing the heels you love. Designed for High Heel Shoes, aids the relief of Bunions, ball of foot pain, heel pain and aching legs.
£18.95 Feetlife